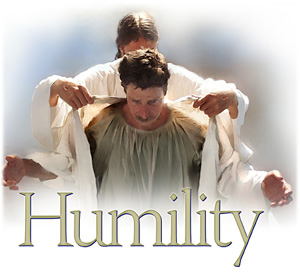 I have gotten to the "Humility" track of the course I'm taking taught by Francis Frangipane.  OUCH is all I can say.
While I do know that I'm not nearly as arrogant as I used to be :-), as I study through the humility of Jesus, I am so aware of my need for more of Him and thus, more humility.
Think about this as quoted from one of my lessons:
"In the beginning of our walk, we embraced life in our own strength, trusting in our own skills for success and attainment.  Yes, we turned to God, but mainly in times of grief or trial.  But as the Lord brings us into maturity, what we once considered strengths are actually discovered to be more subtle and, therefore, more dangerous weaknesses.  Our pride and self-confidence keep us from God's help; the clamor of our many ideas and desires drown the whisper of the still small voice of God.  Indeed, in God's eyes, the best of human successes are still 'wretched and miserable and poor and blind and naked' (Rev. 3:17).

In time, we discover that all true strength, all true effectiveness—yes, our very holiness itself—begins with discovering our need.  We grow weaker, less confident in our abilities.  As the outer shell of self-righteousness crumbles, Jesus Himself becomes God's answer to every man who cries for holiness and power in his walk."
WOW, huh?  Those words strike such a chord with me because it's so true.  "Pride and SELF-confidence keep us from God's help; the clamor of our many ideas and desires DROWN the whisper of the still small voice of God."  I can see how this one sentence was my lifestyle for so long.  It wasn't until I 'slowed down, got quiet, and began to listen' that I really began to grow.
To begin with, I simply made a commitment to get up earlier in the morning to spend time with Him in His Word.  At that point, I had lots of ideas and lots of desires.  I did that for years before I really began to lay down those ideas and desires and ask Him for His!  When I did this, I began to recognize His voice much more clearly.  From there I began just sitting with Him and waiting for Him to speak His ideas and desires.  That step has revolutionized my walk with Him and gradually has caused my ideas and desires to line up with His.  But oh, do I have a long way to go!!  I don't want to stop short of ALL He has for me in this lifetime.
Francis Frangipane goes on to say,
"We may think we have spiritual gifts, we may presume we are holy, we may rejoice with human successes, but until we see Christ and abandon our reliance upon our self-righteousness, all we will ever have, at best, is religion."
Just so you know….I don't want 'religion'.  There are many 'religions' out there and quite frankly, religion may temporarily satisfy…but it will never fulfill our God-given longings.  Satisfy or fulfill?  Big difference!!  Only a personal relationship with Jesus Christ Himself will meet the deep desires of our hearts.  And that relationship begins, I believe, with humility.
Selah. (Pause and calmly think about that.)